Episodes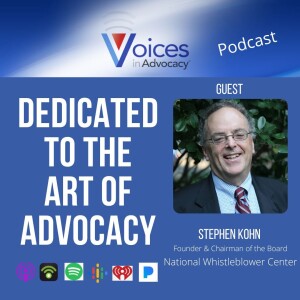 Thursday Jul 27, 2023
Thursday Jul 27, 2023
Whistleblowers have been at the top of the news lately. Today's special guest is the founder of the leading nonprofit dedicated to protecting and rewarding whistleblowers around the world. You do not want to miss this episode as we explore the importance of advocating for stronger whistleblower protection laws and educating the public about whistleblowers' critical role in protecting democracy and the rule of law. 
ABOUT the GUEST
Stephen M. Kohn is a founder and Chairman of the Board at the National Whistleblower Center (NWC) and founding partner of Kohn, Kohn, and Colapinto LLP. Steve is widely recognized as one of the nation's leading qui tam and whistleblower attorneys, and is an active voice in the whistleblower community, having helped draft key whistleblower legislation and regulatory rules. Steve has led a handful of pro bono efforts, and is currently supporting the push to make National Whistleblower Day permanent via a Presidential Executive Order.  
 
He is the author of the first legal treatise on whistleblowing and is the world's most published author on whistleblower protection. His most recent book is Rules for Whistleblowers: A Handbook for Doing What's Right (Lyons Press 2023).
Thank you to our sponsor: Rap Index, tell them Roger sent you.
This podcast is dedicated to the art of advocacy.
Contact Voices In Advocacy at:
480 488-9150
At Voices in Advocacy, we work with organizations that want to inspire, educate, engage, and activate their supports to become even better influential advocates